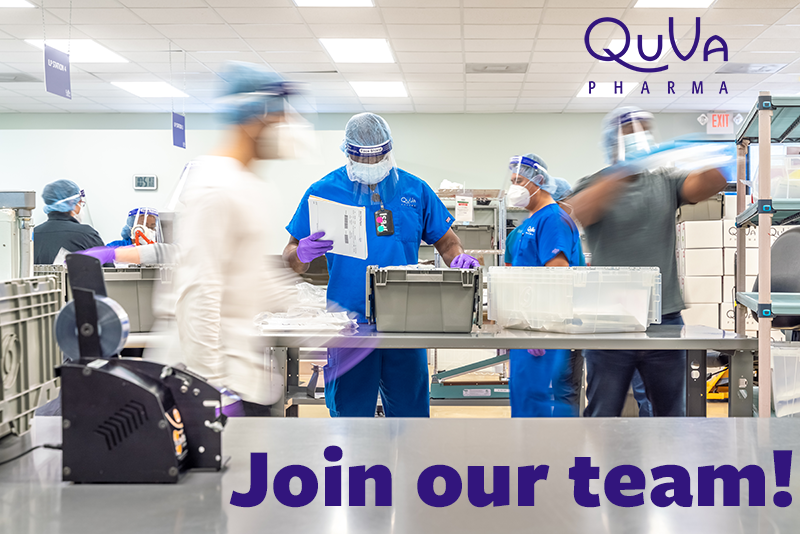 You make a difference when you join QuVa
Ready to apply?
QuVa Pharma is an
employer of choice,
leading the way in
the 503B compounding
industry.
Hospital and Patient need drives everything we do. QuVa uses its unmatched expertise to provide the best possible care for hospital patients through quality pharmacy solutions. It's in our DNA and we look for those that embrace this.
I enjoy working in Direct Distribution and appreciate the advancement opportunities QuVa has provided me over the past two years I have been working here. I am also pleased by the diversity in their hiring, both age and race. This company has been good to me, and I'm happy to be working hard for them.
It has been a pleasure working at QuVa for four years. They show a commitment to employee development and career growth. QuVa has done a great job at fostering a culture of teamwork and collaboration that make it a joy to be a part of the team!
QuVa Pharma is an FDA registered 503B sterile injectable manufacturer of compounded, ready-to-administer products.

We prepare medicines that are essential to hospitals around the country for delivering quality and safe patient care. We are not a drug manufacturer – QuVa "compounds" FDA-approved starting material components into sterile, ready-to-administer injectable medications.

A 503B compounding facility is not like a traditional pharmacy.

Our medicines are compounded anticipatorily and in larger quantities to meet the needs of hospital and health system pharmacies, not for a specific patient who has a specific prescription. QuVa operates under licensing which requires a strict cGMP, quality controlled environment where our quality of product and capacity to deliver are ensured.

QuVa is led by an experienced executive team.

With a deep background and expertise in FDA sterile pharmaceutical manufacturing, aseptic processing, and cGMPs; the team is spearheaded by Stuart Hinchen, co-founder and Chief Executive Officer, and Peter Jenkins, co-founder and Chief Development Officer.

QuVa Pharma is headquartered in Sugar Land, TX.

QuVa Pharma is headquartered in Sugar Land, TX, and operates three sterile compounding facilities around the country, in Bloomsbury, NJ, and Sugar Land and Temple, TX. The 503B compounding industry is evolving rapidly and QuVa Pharma is leading the way.
A team full of collaboration & accountability
QuVa is big on building partnerships, establishing trust and being accountable. We pride ourselves on completing tasks on time. We thrive on collaboration and flexible problem solving. We reward strategic decisiveness.
Most importantly, we empower our team with ownership of our company goals and success.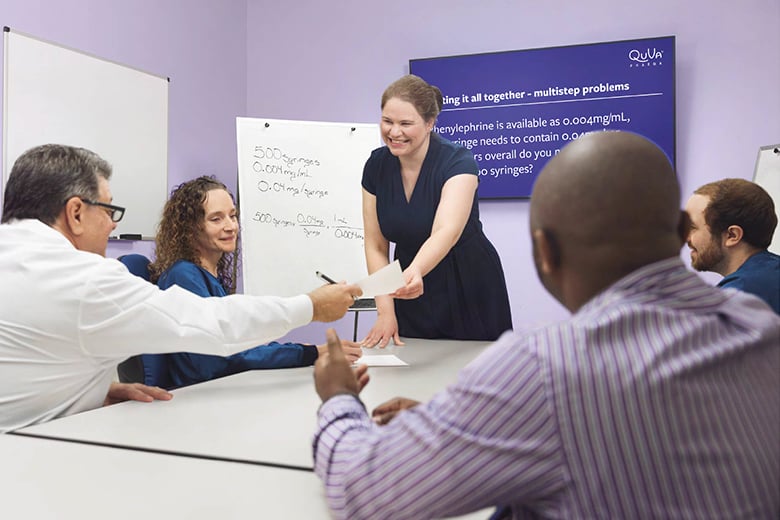 Employee Benefits
Health Insurance Plans (HSA, PPO and HMO)

Company provided Life and Disability Insurance

Dental Insurance

Vision Insurance

Employee Assistance Program (EAP) for all




employees
Health savings account and flexible

dependent




savings account

401(k) retirement plan with 100% company




match of the first 3% of eligible compensation contributions (for eligible employees)

A minimum of 17 days of Paid TimeOff/year




plus eight paid company holidays
QuVa is purpose-built to be a valuable ally,
not just another supplier.
Thank you for your interest in working with QuVa Pharma.
Unsolicited Third-Party Submissions
When additional sourcing assistance is needed for recruitment of talent, QuVa Pharma, Inc. will engage the services of our staffing partners. QuVa Pharma works only with approved vendors (recruiters, staffing agencies, etc.) and will not accept resume submissions from unsolicited third parties. This includes submission to Human Resources or to the Management team. Candidates presented by unsolicited third parties will not be considered and no contractual relationship will be formed, and no fees will be owed by QuVa Pharma for any unilateral submissions.
Search firms interested in working with QuVa Pharma may contact us at HR@QuVaPharma.com. The subject line should be "Search Firm Engagement Request" and include the firm's contact and company information along with any areas of specialty recruiting.